New and improved but still the same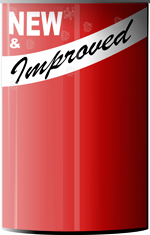 All the time, I see products that are boasting "new and improved" while also saying "same great formula". What they do is just come up with a new look and feel and expect customers who didn't like it before to come back?
Does that actually work? It seems to be, if all you have is a new look, and I didn't like your "formula" before, why would I use it now.
Pizza Hut is a good example of true "new and improved". Their new pizzas are far better than they were before. <div style="clear:both"></div>
blog comments powered by

Disqus